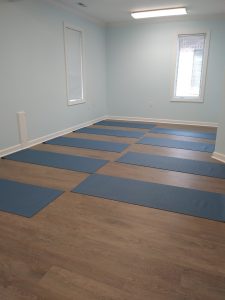 Awakenings Health is pleased to announce that we have a 12′ by 25′ space dedicated to workshops, classes, and other events related to health and wellness. If you are interested in renting our space, Suite 204, for your own workshop, please contact us at info@awakeningshealth.com or 919-935-9832.
Awakenings Health Events:
Yoga Off the Mat with Diane Stakoe
Mindfulness Practices for Stress Relief
Tap into the healing modalities of breath, movement, meditation and scripture; which will, in turn, reduce stress and stress-induced disorders, as well as allow for a place to come together as One for community.
Saturday, December 8, 4:00 – 5:30pm.
Limited to 20 people.
Cost is $10 per person.
To sign up, email dstakoehealth@gmail.com or call 919-349-2673.
Other Events:
Group Counseling with Doug Waldruff
Coping with the Abuse of Narcissistic Partners and Parents
This group will assist victims of the abuse of narcissistic partners and parents to understand their experience, acquire coping skills, find appropriate boundaries and heal. Participants will learn how to identify narcissists and narcissistic behavior; put coping strategies in place; successfully leave dysfunctional relationships; identify people that are safe and those that pose threats to emotional well-being; develop capacities for intimacy and trust; and move from surviving to thriving.
The group will meet from 6:00 – 7:30 PM on Thursdays.
The first meeting will be Thursday, November 1, 2018.
Cost is $60 per session.
To sign up, email doctordougw@gmail.com or call/text 336-681-2358.
Group Counseling with Doug Waldruff
Triangle Support Group for Verbal, Mental, and Emotional Abuse
Dr. Doug Waldruff will be co-organizing and hosting The Triangle Support Group for Verbal, Mental and Emotional Abuse. This group meets once per month and will focus on creating a safe space for survivors of narcissistic abuse to talk and get support from each other, to find understanding, connection and strategies to assist in coping with, leaving and recovering from this type of abuse. We had 20 members at our last meeting and the group is adding new members all the time. Issues such as setting boundaries, understanding trauma bonding and gas lighting are examples of topics we cover. In order to attend this group you need to go to meetup.com and request to join The Triangle Support Group for Verbal, Mental and Emotional Abuse. We will be meeting the 4th Monday of every month .
For security reasons, meeting times and other details for this group will only be available once you have joined the MeetUp group.