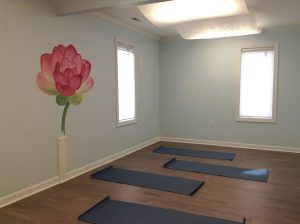 Awakenings Health is pleased to announce that we have a 12′ x 25′ space dedicated to workshops, classes, and other events related to health and wellness. Our multi-purpose room includes:
Yoga mats, bolsters, straps, and blocks

24″ x 48″ tables

Folding chairs

Remote-controlled LED candles

Adjustable blinds for privacy

Dry erase board
Rates are $40 per hour and a half total (includes 30 minutes for set-up/break-down).
We are conveniently located in north Raleigh, near I-540. If you are interested in renting our space, Suite 204, for your own workshop, please contact us at info@awakeningshealth.com or 919-935-9832.
Awakenings Health Events:
The Journey Home:
Reclaiming and Sustaining a Healthy Connection to Your Soul
Awaken to your true self. Through discourses led by Dr. Adam Gries, yoga, creative writing and online check-ins, Awakenings will guide you through a series of 5 classes helping you reclaim your soul.
The program is designed to bring clarity to a number of fundamental life questions and help us restore a connection to our true self.
Learn to:
Bring joy back into your life
Nourish yourself with the abundance of your experiences.
Let go of your past to make room for your future.
Learn to love, accept, and support yourself unconditionally.
Find deep peace regardless of life's ups and downs.
Classes begin on February 6th.
Yoga and Meditation with Laura Gries
All classes are on a first come first serve basis.  Space is limited, door open for each class 10 minutes prior to start time.  Laura accepts cash, check or payment using Venmo (use email address info@awakeningshealth.com)
Hatha Yoga & Meditation – Beautify Yourself
Yoga For Mamas of ALL Stages
Yoga mOM gives a mama 45 minutes of her own time and  space to clear her head.  Yoga mOM allows mamas to take care of their bodies, minds and spirits while creating a special bond with other moms free of guilt. The class consists of a full Hatha yoga and meditation practice for MOMS ONLY to allow a community to build and grow. 
Experience a warm, safe space to discover, explore, and transform into your truest self through yoga and meditation.
This asana practice takes you on a journey of transformation. By paralleling the obstacles and challenges on the mat to every day life, you learn to breath through your life with no judgment and release your hidden potential within.
Other Events:
Group Counseling with Doug Waldruff
Coping with the Abuse of Narcissistic Partners and Parents
This group will assist victims of the abuse of narcissistic partners and parents to understand their experience, acquire coping skills, find appropriate boundaries and heal. Participants will learn how to identify narcissists and narcissistic behavior; put coping strategies in place; successfully leave dysfunctional relationships; identify people that are safe and those that pose threats to emotional well-being; develop capacities for intimacy and trust; and move from surviving to thriving.
Cost is $60 per session.
To sign up, email doctordougw@gmail.com or call/text 336-681-2358.
Group Counseling with Doug Waldruff
Triangle Support Group for Verbal, Mental, and Emotional Abuse
Dr. Doug Waldruff will be co-organizing and hosting The Triangle Support Group for Verbal, Mental and Emotional Abuse. This group meets once per month and will focus on creating a safe space for survivors of narcissistic abuse to talk and get support from each other, to find understanding, connection and strategies to assist in coping with, leaving and recovering from this type of abuse. We had 20 members at our last meeting and the group is adding new members all the time. Issues such as setting boundaries, understanding trauma bonding and gas lighting are examples of topics we cover. In order to attend this group you need to go to meetup.com and request to join The Triangle Support Group for Verbal, Mental and Emotional Abuse. We will be meeting the 4th Monday of every month .
For security reasons, meeting times and other details for this group will only be available once you have joined the MeetUp group.